Quality – Excellence – Service
Welcome to Eventful Rental! We are a wedding and event rental company located in Springfield, Missouri, and service a large area throughout Southwest Missouri, Northwest Arkansas, Eastern Kansas, and Central Missouri. Our goal is to help make your dream event a reality, by providing high quality equipment with personalized and reliable service. From small, intimate affairs, to large corporate events, and everything in between, our Event Consultants are ready to assist you with your ideas, big and small! Feel free to look through our Inspiration Gallery for ideas and samples of our work, and stop by our showroom to be able to feel and see everything that we have to offer! We look forward to working with you!
Eventful rental made our booking and wedding PERFECT! We booked ahead of time and they made it even easier with the delivery AND pickup. We didn't have to worry about a thing! 
Thank you so much!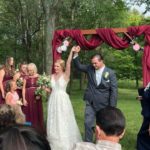 Lauren Polizzi
Eventful Rental was the best rental company I have ever worked with!! As an event and wedding planner in the Springfield area I have used a lot of vendors, but was beyond impressed with Eventful Rental's customer service and amazing products. For my own wedding they went above and beyond to make it the most special day of our lives! We had a few last minute additions to our order and they were so accommodating and made everything happen at the last moment! A few items were also left at our venue including personal items and they were gracious enough to travel to Eureka Springs, AR to retrieve them for me while I was on our honeymoon. I highly recommend their services and products to anyone looking to plan an upcoming wedding or event.
We used Eventful for a corporate event and Amanda went above and beyond to make sure it went off without a hitch! The rentals were so beautiful and went perfect with our industrial theme. Stellar customer service! Will be using them again!
Giving Eventful Rental a 5 star is so easy for me!! Being a wedding coordinator I love having wedding vendors that I know and trust that I can refer my brides to. They have everything you could possibly need.. chairs, draping, candles, centerpieces, cake stands, place settings, and so much more. Plus their staff is amazing. I have worked with them multiple times and I can honestly call them friends. They know what I need before I walk in the door and they are so helpful when it comes to putting together a cohesive look with you. PLUS a huge bonus is the process is so easy. You walk in their show room and are greeted with a fun outgoing staff, browse the show room and pick what you like, and they send you an invoice. It's the ease you want when planning a wedding. I highly recommend Eventful Rental to my clients!! It's a must when designing a wedding!
Follow us on Social Media